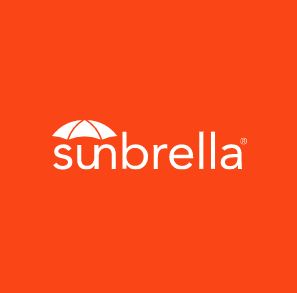 2022 Marine Trends - Sunbrella Marine Upholstery Collection
Marine design trends for 2022 are all about new design and personalization that takes boating aesthetics to new heights. With Sunbrella fabrics, mariners can make their boats uniquely their own with coordinating patterns and consistent colors across collections. Whether you're a veteran captain or a newcomer, the Sunbrella Marine Upholstery Collection gives you the ability to design a craft that reflects your lifestyle and personality. 

Ultimate UV protection, fade resistance, mold, mildew resistance, and cleanability is why Sunbrella marine canvas fabrics have been a trusted choice of boat enthusiasts, marine boat manufacturers, and fabricators around the world for almost 60 years. 
New Nautical 
When you think of timeless boat design, classic stripes, shades of blue, and crisp whites come to mind. This nostalgia for Americana provides building blocks to mix and match with new hues and design elements for a more modern feel and aesthetic. 

Modern combinations provide a nod to the past while bringing us into a new era of boating. A great example is pairing a robin's egg blue with wood tones like rich cherry or mahogany to create a retro '70s style in line with interior trends. 
Luxury of Textures 
Comfort is key when it comes to your environment and why shouldn't that apply to your favorite summertime spot, your boat? Picture the plush, soft fabrics of a sofa applied to places like sun pads and cockpit seating. With innovative and durable fabrics made from high-performance materials, it's possible and practical to use these textiles on your boat.  
Tiny Details, Big Impact 
Unique fabric or paint colors can set your boat apart from others and can serve as an extension of your own personal style. This can range from your entire paint scheme to the smallest details. Some of these touches include special designs sewn into the upholstery, as well as contrasting colorways of thread or fabric used as piping.

The custom marine upholstery above is done by Canvas designers .
Sewn with ZSK CNC embroidery machine.
They can continuously sew a panel area of 51 by 54 inches.
These quilting patterns create inviting and engaging seating with a high-end look. The result is a bench or captain's chair that draws the eye and gives you the ability to showcase your personality and style. 

Finally, completing the look with stylish pillows and other décor can transform any boat, giving it a fresh feel that can be easily adjusted to the season or activity. 
 For any upholstery needs you can contact Canvas  
Sleek and Sporty 
The vivid colors and dramatic styles typically used in boat racing are making their way onto crafts throughout the harbor. Whether on a speed boat or a pontoon, these active hues make a statement for adventure-seeking mariners.  

Bringing this motif to life relies on vibrant and saturated colors such as fire engine red, bright orange, and even neon green. These eye-popping colors are often layered on top of a perfect stage of an all-black base including a black hull, poles, and trim. A touch of silver and accents in chrome complete the high-powered look. Contrast piping and sewn-in designs are also making an appearance to give sporty boats an edgy custom look. Not ready to go full throttle? Many boaters are testing the water with large applications of bright colors like teal in custom Bimini tops. 
Sunbrella Marine Upholstery Collection 
These trends and more are reflected in the Sunbrella Marine Upholstery Collection. This curated collection of fabrics includes a wide selection of colorways, textures, woven patterns, and innovative properties that provide endless inspiration for any boat project.  

Explore fabrics from sophisticated, classic neutrals to trend-forward pops of color and novelty designs. All Sunbrella fabrics can be used to create an enjoyable and worry-free atmosphere for memorable adventures on the water.