Double click image to zoom in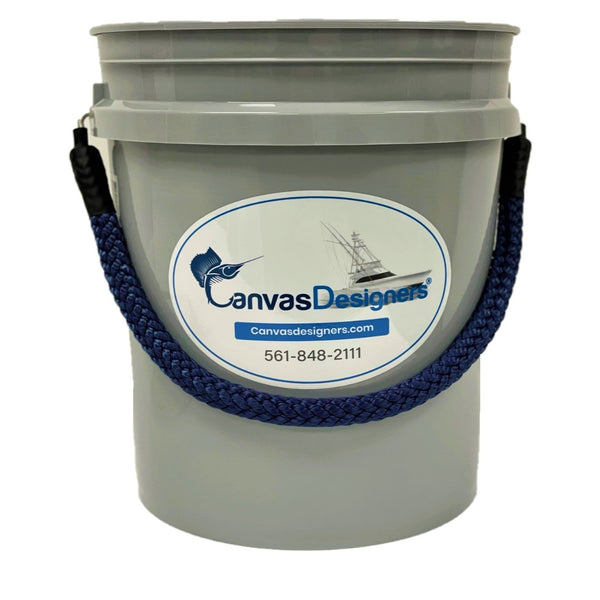 CD 5-Gallon Gray Bucket with Navy Blue Rope Handle
Pickup available at
1500 Australian Avenue
Usually ready in 5+ days
View store information
Product Details 

Canvas designers (NO
 scratch) 

5-Gallon Gray Bucket with Navy Blue Rope Handle.
This premium 90 ml UV resistant 5-gallon bucket is 14.5" tall. The massive 5/8" diameter Eurobraid rope handle is a marine-grade 12 strand nylon line, offers a superior grip with wet or slimy hands, is comfortable to carry, and looks good too.  

It can be filled to the top (no handle holes) and the handles will not scratch your boat like conventional 5-gallon buckets.

A Multipurpose Utility Item - This 5-gallon bucket tool organizer is specially designed with your convenience in mind. Use it as tool storage, brine bucket, car wash bucket, or fishing bucket.
No More Rusty Metal Handles - Unlike a regular plastic bucket, 

Highly Durable Bucket Seat - This bucket organizer is made with rigid, heavily molded plastic to withstand weight and pressure. Flip it over, and you have a sturdy 5-gallon bucket seat after working.

Organize Fishing Gear - Our versatile, heavy-duty tool bucket organizer is wide enough to fit all your gear. You can easily keep everything you need in one place!

Easy-to-Store, Stackable Small Buckets for Cleaning 
Our on-line store is open 24/7 and we ship Monday through Friday, excluding some holidays. Orders received for products without shipping restrictions on its product page will ship 2-3 business days when received before 12:00 p.m. PST. Orders in high demand will have an estimated production time listed on its product page and will ship according to the date listed.
Mission Statement

It is the mission of Canvas Designers® to design, manufacture and deliver the consumer and our customers with the finest, high quality products, and, to lead the marine industry in innovation, design, professionalism and technologically advanced processes.

​

Through our culture, our drive and the expertise of each individual employee we are uniquely positioned to provide best in class services and products.

​

We will do this by managing our business with integrity and the highest ethical standards, while acting in a socially responsible manner with particular emphasis on the well-being of our teammates, consumers and customers.

​

We appreciate you taking the time to look at our products. It is our honor to serve the marine community since 1985.

​

If you have any comments or questions, e-mail info@canvasdesigners.com.

​

Sincerely,

​

Michael Erickson, President

Canvas Designers® Inc.