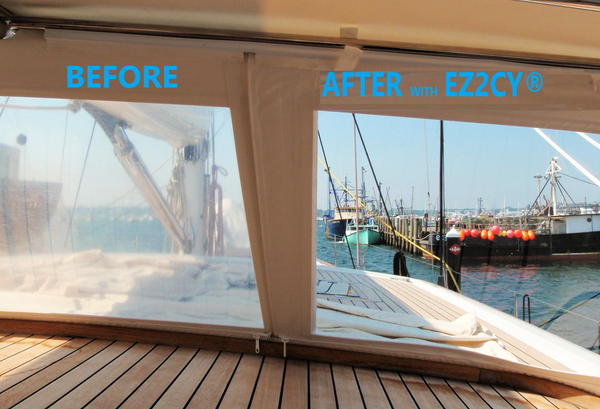 ez2cy Often Imitated Never Duplicated
At EZ2CY®, we enjoy the challenge of helping each client find boat canvas
enclosure they're looking for. Feel free to contact our knowledgeable staff with any questions
whether you have a boat center console enclosure, Sportfish or yacht.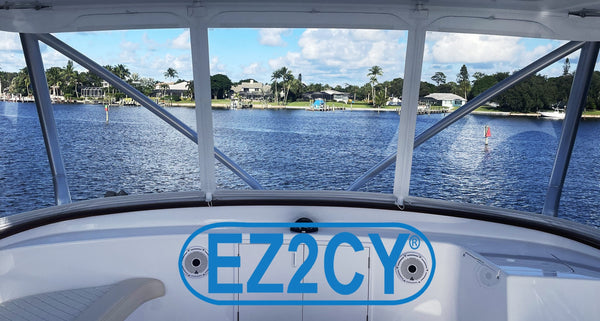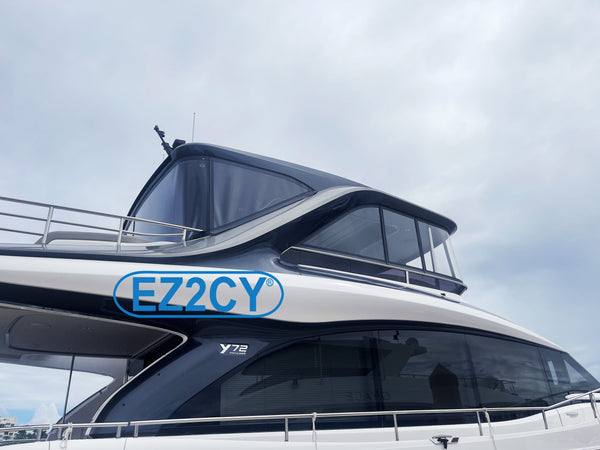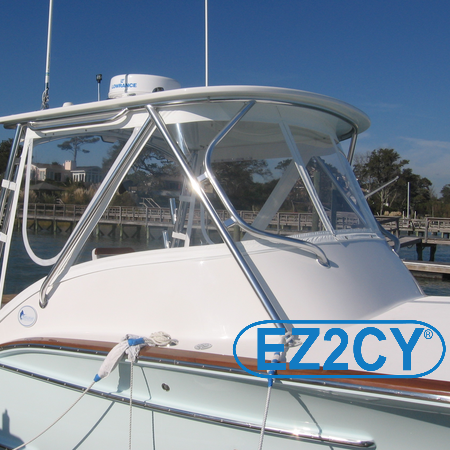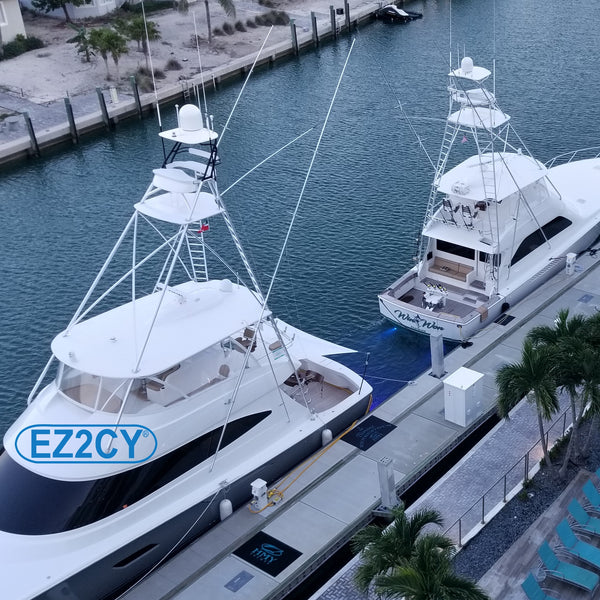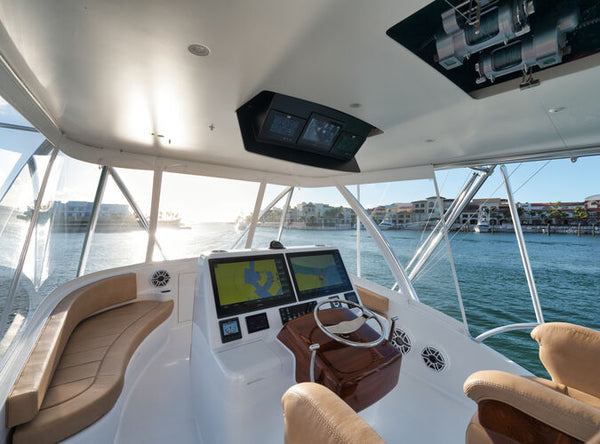 EZ2CY®

 boat enclosure is a premium, bonded acrylic product more potent than traditional flexible and polycarbonate clear products.  

Why buy EZ2CY® Enclosures?
EZ2CY® enclosures are the most durable and reliable enclosures in the marine industry. They are fabricated from impact-modified acrylic specifically for use in harsh marine environments.  EZ2CY® enclosures are compatible with any vessel type and are typically preferred over soft vinyl enclosures. Our components are carefully selected and continually evaluated to maintain the superior quality standards of EZ2CY®
ADVANTAGES

Blocks 98% of broad-spectrum UV vs 71% of competitors.

Reduces UV damage to upholstery, wood, and vessel interior. 

Five year

 wa

rranty protection

.

EZ2CY® is clearer than glass and transmits 91% of light. It also provides excellent glare reduction in day or night conditions.

It has its own EZ2CY® product line to ensure proper care and longevity. 

Provides heat reduction and therefore improves air conditioning efficiency. 

No rainbows like polycarbonate.

Optically Clear

Distortion-free

Helps improve your vessel's resale value.

Multiple EZ2CY® Dealer locations to which your boat can travel.

Resistant to yellowing or haze.

Scratches are buffable.

No rainbow colors when looking through the product with polarized sunglasses.

With proper care, can it last ten years or longer.
EZ2CY® Fishing Boat Enclosures
Stay safe and comfortable in any kind of weather with

EZ2CY®

enclosures.

​

EZ2CY enclosures are able to meet and exceed customer expectations on a consistent basis because they are made from quality components.


Whether flexible or rigid,

EZ2CY®

 enclosures are lightweight, crystal clear, and long-lasting. Whether custom-fit your Boston Whaler or a full motor yacht, our marine enclosures are precisely measured for a custom fit, and they last season after season. 
Also known by various names as -

marine-grade vinyl enclosures
custom isinglass enclosures
eisenglass enclosures
clear vinyl enclosures

They are highly favored by boaters due to their exceptional flexibility and versatility in safeguarding their vessels.
Let's delve into the primary features of this isinglass for boat enclosures: They are popular for boaters seeking a flexible and versatile solution to protect their vessel from the elements. Here's a description of soft glass boat enclosures and their key features:
EZ2CY offers:
Weather Protection: Soft glass enclosures protect against wind, rain, and UV rays. They create a barrier that keeps the interior of your boat dry and shields you from the elements, allowing you to enjoy boating in various weather conditions.
Versatility: Isinglass boat enclosures are highly flexible, allowing them to be easily rolled up when not in use. This versatility provides convenient storage and allows for different configurations based on weather conditions or personal preferences.
Visibility: Clear vinyl offers optimal visibility, allowing you to enjoy unobstructed views of the surrounding water and landscapes. This ensures a safe and enjoyable boating experience, as you can confidently navigate and appreciate the beauty of your surroundings.
Customization: Soft glass boat enclosures can be customized to fit your boat's specific dimensions and design. They can be tailored to accommodate various shapes and sizes, including curved or irregularly shaped areas. This ensures a snug and precise fit for your boat, enhancing aesthetics and functionality.
Easy Maintenance: Soft glass enclosures are relatively low maintenance. They can be cleaned using mild soap and water, making it simple to remove dirt, salt, and other debris that may accumulate during boating trips. Regular cleaning helps maintain the clarity and longevity of the material.
Affordability: Soft glass enclosures are generally more cost-effective than other enclosure options, such as rigid glass or acrylic. This makes them a popular choice for boaters looking for an economical yet functional solution for weather protection.
Soft glass boat enclosures offer a practical and customizable solution for protecting your boat and enhancing your boating experience. Whether you're looking for protection from the elements or a versatile enclosure that can be adjusted as needed, our eisenglass enclosure boats provide a reliable and convenient option.
How should I clean my EZ2CY® Boat Enclosure?

For initial and occasional cleaning, use EZ2CY® Enclosure Cleaner/Polish to remove static and make future washing easier. We recommend using Kleenex® Viva White paper towels for this procedure. For normal washing, rinse the enclosure with fresh water after each use to remove salt and periodically when exposed to salt air. More extensive cleaning can be done using common boat soaps with a soft mitt and a fresh water rinse. You can also use a squeegee or water blade if desired.
How should I care for the zippers on my EZ2CY® boat Enclosure?

Unzip the zippers and wash them with soap and water, then rinse with fresh water. If the zipper tape is very dirty, use a light solution of Woolite®-type fabric cleaner followed by thorough rinsing. Do not use any form of lubricant on the zippers.
What should I do if there are scratches on my boat Enclosure?

Most scratches can be removed by hand polishing with EZ2CY® Scratch Remover. You can also use an electric buffer to facilitate the process. Keep moving over the scratched area, use light pressure, and moisten the area using a spray bottle with clean water. Rinse and follow with EZ2CY® Enclosure Cleaner/Polish.
Are there any products I should avoid using on my EZ2CY® boat Enclosure?

Yes, avoid using window cleaning sprays, RAINEX®, kitchen scouring compounds, solvents such as acetone or lacquer thinner, cleaners that contain alcohol, and any form of lubricant. Exercise caution when using metal cleaner on pipe work adjacent to the enclosure.
How should I handle removing, opening, and closing panelson my EZ2CY® boat Enclosure?

EZ2CY® Enclosures are designed to remain on the boat, as the probability of scratching or damaging a panel outweighs any benefit of storage. If panels must be removed, contact an EZ2CY® Dealer for assistance. Avoid excessive bending when opening or closing a panel and consider the wind conditions. Open them to the top track for vertical zippers and hold the panel while unzipping the bottom zipper. Pull the panel in and up to the top and fasten it appropriately. If panels are rubbing on each other, use a soft product like a paper towel or clear suction cup to prevent scratching.
Can I store my EZ2CY®enclosure panels byremoving them from the boat?

EZ2CY® Panels are designed to remain on the boat. The cost and likelihood of scratching or breaking a panel during removal outweigh any benefit of storage. If you need to remove your panels, don't hesitate to contact your EZ2CY® Dealer for assistance.

Note: It's important to consult the official EZ2CY® documentation or contact an EZ2CY® Dealer for specific care instructions and any updates to the recommended maintenance procedures.

Can I wax the enclosure?

Yes, if desired, you can wax the EZ2CY® always consult the dealer first. Enclosure with a good quality auto paste wax (avoid waxes with color). After applying the wax, wipe it off with a damp cloth to remove static. Always remember to use EZ2CY cleaner and polish first.