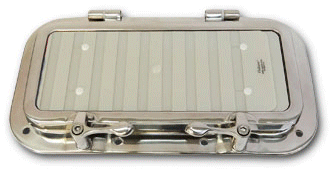 Double click image to zoom in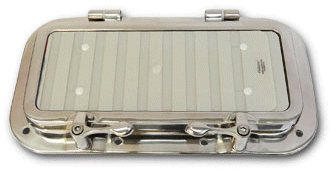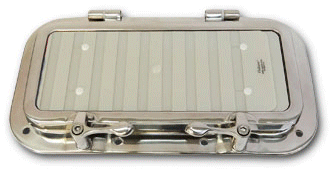 Portlights Closures - for Portlight blinds and privacy
This item is temporary out of stock
Pickup currently unavailable at
1500 Australian Avenue
Window or porthole CloZure (porthole blind) -  for use when curtains and shades don't work.
The clozures shutter or sometimes referred to as hatch shades, portlight covers, and pleated shades 
is a simple and elegant solution for replacing those dusty curtains or broken shades.
Product details:
The shutters offer 100% UV protection and will make your boat's interior 15 deg. cooler on a hot sunny day.

Sunlight will filter through the shutters so the interior remains bright

When closed at night the shutters provide 100% privacy.

Available in 3 colors - White, Sea Shell, Black on White
The room darkening shutter is black on the inside and white on the outside.
CloZures® shutters are made from 2 pieces of 0.030 thick Polycarbonate which have been silkscreened and processed to size on automated equipment. They are manufactured using the latest UV material and technology. They function by simply moving one layer on top of the second layer, thus opening or closing the shutter.
CloZures® are attached to the lens/glass of the portlight or hatch via 3M low profile Dual Lock, (a Velcro type material). To install simply remove the red liner exposing the acrylic adhesive, then position and press firmly to the lens/glass. They are easily removed for cleaning.
Sometimes referred to as :
shade for the window or shade for a door
shade for door window
Portlights closures
Portlights closure
portlight shade
portlight
portlight covers
pleated shades
pleated shade
hatch shades
door window shades
door window shade
DIY boat shade
clozures shutter
boat window blinds
Our on-line store is open 24/7 and we ship Monday through Friday, excluding some holidays. Orders received for products without shipping restrictions on its product page will ship 2-3 business days when received before 12:00 p.m. PST. Orders in high demand will have an estimated production time listed on its product page and will ship according to the date listed.
Mission Statement

It is the mission of Canvas Designers® to design, manufacture and deliver the consumer and our customers with the finest, high quality products, and, to lead the marine industry in innovation, design, professionalism and technologically advanced processes.

​

Through our culture, our drive and the expertise of each individual employee we are uniquely positioned to provide best in class services and products.

​

We will do this by managing our business with integrity and the highest ethical standards, while acting in a socially responsible manner with particular emphasis on the well-being of our teammates, consumers and customers.

​

We appreciate you taking the time to look at our products. It is our honor to serve the marine community since 1985.

​

If you have any comments or questions, e-mail info@canvasdesigners.com.

​

Sincerely,

​

Michael Erickson, President

Canvas Designers® Inc.