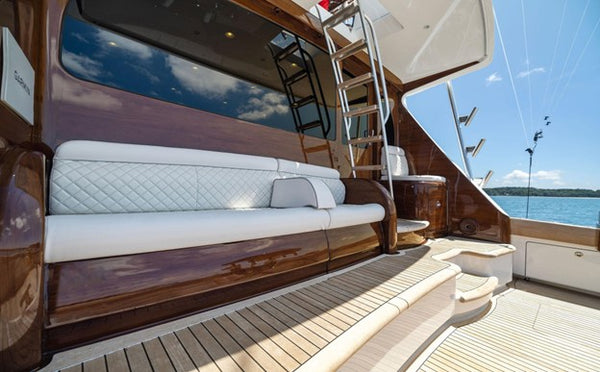 Ultimate Refit: Canvas Designers on a 68-ft Viking Sportfish
The complete interior and exterior upholstery, carpeting was redone . 
Sportfish refits traditionally fall into three distinct categories, each catering to yacht owners' diverse needs and preferences.
Refresh and Modernize: The first category consists of passionate yacht owners who deeply cherish their vessels. They opt for refits to refresh and modernize the interiors and upgrade both the interior and exterior to meet contemporary standards. Their goal is to maintain the classic charm of their yachts while infusing them with new life and enhanced functionality.
Affordable Revival: The second group comprises savvy buyers who recognize the value of acquiring and refurbishing a used boat. By opting for a refit, they can achieve significant cost savings compared to purchasing a new vessel. This approach allows them to transform a pre-owned boat into a personalized and captivating vessel without compromising on quality.
Enhancing for the Future: The third category comprises forward-thinking individuals who eventually aspire to own a new boat. However, they choose to maximize the longevity of their existing boat by upgrading it for a few more years until they are ready to transition to the next one. They enhance their current boat's performance and aesthetics through refits, ensuring it serves them faithfully until their next venture.
At times, our interior and exterior upholstery refits serve as 'holdovers' for owners on the brink of purchasing another boat. Surprisingly, many rekindle their affection for their vessels after the transformation. The refit process often instills a newfound appreciation and love for their boats, reaffirming their decision to continue enjoying the cherished memories and experiences onboard.
When undergoing a refit, ensuring everyone is in sync is crucial. We prefer to have frequent updates on board from the owner and contractors, such as American Yacht Restoration, who specialize in wood restorations.
During a Viking sportfish refit project, there was a phase where new overhead panels were being installed in the main salon and cabins. However, one of the electrical contractors responsible for rewiring behind those panels encountered unexpected delays waiting for parts to complete their work. Any issues are promptly communicated to the project team, ensuring everyone knows the situation.
This example highlights the importance of effective communication and teamwork in overcoming unexpected challenges during a refit project. By working together, the team was able to achieve success and meet project deadlines.
Complete Refit on a 68-ft Viking Sportfish with Canvas Designers
We are thrilled to share this project, a complete refit on a 68-ft Viking Sportfish yacht. Our team at Canvas Designers took on the challenge of revamping every detail, ensuring that this iconic vessel remains at the pinnacle of style and comfort.
Sofa Recover: We kicked off the refit with a luxurious sofa recover. Adding new cushions and backs for an updated geometric look.  We infused a touch of elegance with Ultra Fabric Pumice Whitewater fabric and UF Coast Dolphin Welt, striking the perfect balance of sophistication and coziness.
Dinette Revival: Our attention then turned to the dinette area, where the customer personally selected an exquisite Ultra Fabric covering in UF Dolphin. The results are simply breathtaking, as this space now radiates both opulence and practicality.
Revamping the Salon Valances: To enhance the salon's ambiance, we refurbished the valances using new fabric and foam. Sunbrella Piazza Pebble was the fabric of choice, adding an element of earthy charm that perfectly complements the yacht's design.
Unmatched Barstool Makeover: In the bar area, we achieved a stunning transformation by recovering the barstools in Dolphin fabric for the body and Pumice Whitewater Welt. The same foam and design ensure a consistent and visually pleasing look throughout the space.
 Softening the Lambrequins in the Salon: The elegant lambrequins in the salon were given a refreshing facelift. We combined existing base wood with new fabric and foam, using the premium Sunbrella Piazza Pebble fabric to create a harmonious balance of style and function.
Elevating the Flooring: When it comes to flooring, we left no stone unturned. Throughout the boat, we installed Fabrica Style Garbo carpet in a striking Ninotchka 949GB color. The result is an inviting, warm atmosphere that complements the yacht's luxurious interior.
Master Cabin Bliss: The master cabin received a special touch, as we modified the store-bought bedspread to achieve a personalized, tailored appearance, ensuring the ultimate comfort and style.
Customizing Guest and Crew Quarters: Not overlooking the guest and crew quarters, we modified store-bought bedspreads for the upper and lower bunks, delivering a touch of elegance and comfort that mirrors the yacht's grandeur.
Perfecting the Helm Chair: The helm chair received a complete makeover, featuring new seat and backrest cushions in Sunbrella Horizon vinyl Capriccio Cloud. Quilted Charcoal insets added a dash of luxury, making every captain's journey an exceptional experience.
Flybridge Elegance: Continuing the theme of luxury, we crafted new flybridge cushions with dri-fast foam for unmatched comfort. Sunbrella Horizon vinyl Capriccio Cloud, Charcoal welts, and diamond quilt patterns set the stage for unforgettable moments on the open sea.
Mezzanine: The mezzanine area was transformed into a captivating oasis with new foam and fabric, showcasing Sunbrella Horizon vinyl and Capriccio Cloud with elegant quilting and alluring Charcoal welts.
Revitalizing the Arm Rests: For the final touch, we re-covered the Viking armrests, ensuring every detail is perfectly tailored, complete with a convenient drink caddy.
At Canvas Designers, we take pride in our attention to detail and commitment to elevating the yachting experience. This complete refit on the 68-ft Viking Sportfish is a testament to our passion for craftsmanship and creating unforgettable moments on the water. If you want to transform your vessel into a masterpiece, let us bring your vision to life. Contact us today for your next yachting adventure!
CONTACT US
Canvas Designers
1500 Australian Avenue
Riviera Beach, FL 33404
T: 561-848-2111
F: 561-848-2148